I am unsure if the yellow-clad Greyhound on the Test is an atmospheric gastropub with rooms or a quaint boutique hotel with a gastropub-style restaurant.
What I do know is that you will find Greyhound on the Test in a 600-year-old building conveniently located on a lovely high street in the well-heeled town of Stockbridge in Hampshire.  It's a wholesome scene surrounded by picturesque countryside ideal for walking off the generous and top-notch dining or walking the dog. Yes, dogs are welcome.
Since taking it over in 2012, owner a former pastry chef Lucy Townsend has created a country yet contemporary-styled affair. Inside it's all about oak wood beams in the restaurant, sometimes exposed brick, and light grey wood panelling.
There's alfresco dining on their hidden-from-view terrace, where I enjoyed a couple of Aperolls one sunny day, sitting on blue seating surrounded by lush vegetation.
The Greyhound on the Test owns a private stretch of the River Test that flows behind the hotel, its gardens and beyond where a pair of swans spend the day lazily swanning about.
Had I had the inclination I could have booked a slot for a spot of fly fishing at Hampshire's finest chalk stream. The kitchen would have happily cooked my trout or I could have BBQed it myself using their bankside facilities.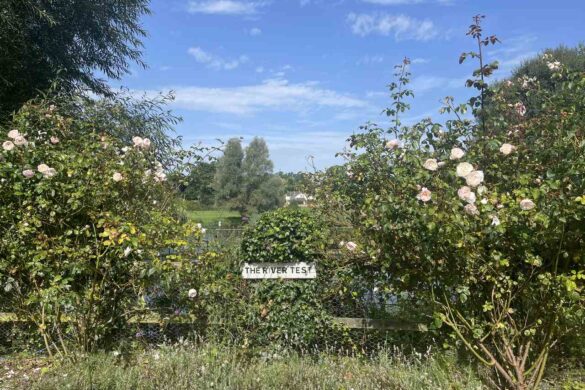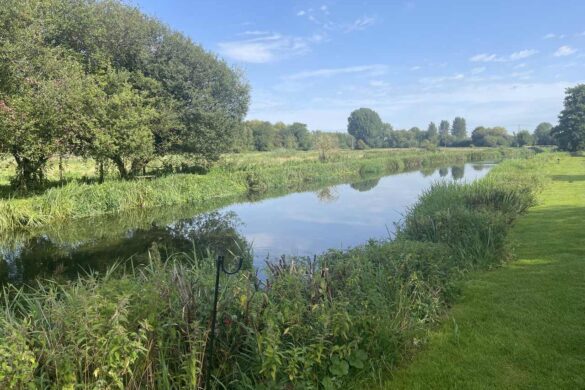 I was content to enjoy the lovely ambience, the cosy accommodation and the relaxed, friendly service. It's all so easy; there's no formal reception, we just entered via the restaurant and announced ourselves to convivial host and Maître d' Bob Swan. Very soon we had the key in hand and were relaxing our room.
Who is the Greyhound on the Test For?
The Greyhound on the Test is an ideal place for anyone looking for a place to escape and enjoy a bit of time out. Or just need a fine place to rest your head when are passing through.
Accommodation
There are 10 really lovely rooms, seven of which are above the restaurant, and three in the attached cottage. All come with attractive furnishings such as velvet cushions and appealing lampshades, artwork and flat-screen televisions with Freeview.
Leet 1 on the ground floor has a king-size bed and wonderful underfloor heating. The biggest is Leet 3, approached by a narrow staircase, has two bedrooms over two floors and comes with a roll-top bathroom. It's great for a small family.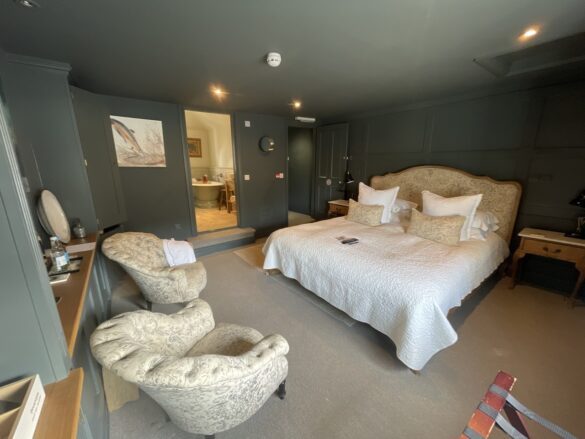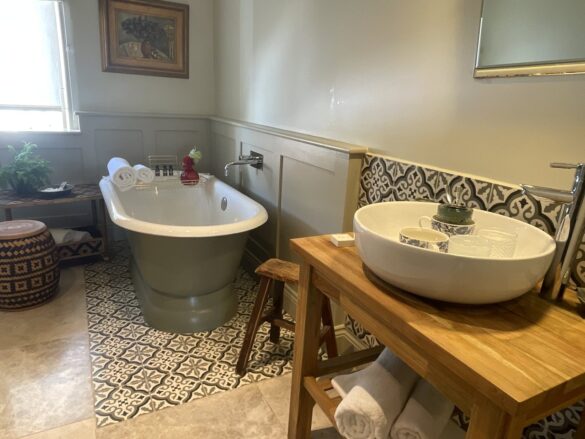 Our room was Leet 2 which has a small courtyard and its own entrance from the restaurant terrace. The spacious room has an attractive shower/wet room with Molten Brown toiletries and it comes with a Nespresso machine and a mini-bar. We had bedside treats of mineral water, with crystal glasses to sip it from, 'naturally delicious' crisps and a jar of gummies.
Cosy and spacious with the most comfortable king-size bed, I enjoyed two amazing nights' sleep. I checked and these are Hypnos beds, so I will be heading out to get my own.
Food & Wine
Head Chef Matthew offers a menu that's a mix of Asian and European styles. Olives and sourdough (supplied by the Hoxton Bakery opposite, also owned by Lucy Townsend) arrived.
We started with beetroot and Rosary goat's cheese with aged balsamic and toasted pine nuts and a maple and a mirin cured Test trout with miso cream, mango, pickled ginger, sesame and house kimchi. Flavours were bursting.
The mains were the Wiltshire pork belly, roasted scallops, prawn mouse, courgette, cured ham, vanilla and black garlic; and the corn-fed chicken, roasted garlic, pomme Anna, a ball of chicken liver, lemon, thyme, sage and leek emulsion.
Rather than describe this palatable joy, I'll leave you your own imagination to stew on all those ingredients.
There's a fabulous range of tipples including an extensive wine list and a range of white real ales and whiskeys. We pared our food with the Henners Gardner Street Classic Bacchus Chardonnay which hails from England's East Sussex.
Breakfast is both a small buffet and a menu of cooked dishes including Greyhound full English, smoked trout with scrambled eggs and a creamy oat porridge.
Facilities
The Greyhound on the Test has a great restaurant, room service and free wifi. Oh, do ask about flyfishing opportunities.
How much

Doubles at The Greyhound on the Test start from £235.
What's Nearby
The Greyhound on The Test is in the lovely town of Stockbridge and sits between Andover and Romsey in the panoramic Test Valley.
There's plenty of interesting boutique shops and fashion by local designers on the doorstep.
You are in the countryside and so there are plenty of lovely walks to enjoy a great mix of countryside, woodland, rivers and bird spotting if that's your thing. The National Trust has plenty of information.
Slightly further afield we spent a day at the Hawks Conservancy in Andover where we watched while birds strutted their stuff and showed off their high-flying antics during shows.
The next day we spent some time at the 180-acre Hillier Gardens to see the splendour of the seasonal planting displays.
One afternoon we took a drive to the nearby town of Winchester to immerse in the spiritual atmosphere of the town's most elegant Cathedral.
VERDICT: The charming Greyhound on the Test hotel in Stockbridge exudes charm and an easy vibe. It offers a delicious menu, and a hearty breakfast with on-point service. In short, everything just fits.
Image:Getty Images