Many visitors breeze right on through Addis Ababa, Ethiopia's somewhat ramshackle capital, but rich rewards await those who delve deeper into the melee.
Here are some of the highlights that await in the city founded by Emperor Menelik II back in 1887, whose name means 'new flower' in the local language Amharic.
---
Must grab a coffee
Embrace the local tradition by starting your day at one of the city's fantastic coffee establishments, where you can energize yourself with a couple of caffè macchiatos.
Notable choices consist of Café Choché, located near the city's historic train station, La Gare. Here, you can also savor a delectable menu that includes Belgian waffles drizzled in melted chocolate, all within the charming courtyard garden. Alternatively, you can opt for the ever-expanding To.mo.ca chain. The original To.mo.ca shop on Wavel Street, a local institution since the 1950s, is another excellent choice.
More traditional style coffee outlets centre on the unrushed coffee ceremony, so central to the local culture. Having first roasted the beans and brewed the coffee in 'jebanna' clay pots the sellers pour out a procession of tiny little cups from on high, sweetened with sugar and sided by some roasted kollo grains or popcorn.
Meet Lucy
To delve into the rich and eventful history of the Land of Origins, explore the city's array of museums. The most renowned is The National Museum, which houses a somewhat eclectic and limited collection, prominently featuring the skeletal remains of 'Lucy,' one of our early hominid ancestors.
For a more extensive and diverse range of exhibits, make your way to the Ethnological Museum near Meskel Square, housed within a former palace. In close proximity, the Red Terror Martyrs Museum offers a considerably more somber experience. This impactful yet unsettling exhibition sheds light on the turbulent period Ethiopia endured during the dictatorial rule of Colonel Mengistu's Derg regime, spanning from the Revolution of 1974 until his departure in 1991.
Eat injera
When it comes to savoring Ethiopian cuisine, one term takes the spotlight above all else: injera. This soft, subtly tangy flatbread, crafted from teff flour, makes a frequent appearance in nearly every meal. It is usually served alongside a hearty selection of 'wat' (stew) and/or 'tibs' – small portions of sautéed meat or vegetables. To enjoy, simply tear off a portion of the spread-out injera and use it to scoop up the delectable dishes.
Good bets for local fare such as injera include the branches of Kategna Restaurant. If you get a taste for it you can even order it at breakfast where the popular dish 'fir fir' — a dish of chopped up rolls of injera fried in stew and served up on a rolled out injera — is guaranteed to keep you fuelled up until lunchtime.
Must go to church
Many of the city's most impressive structures relate to Orthodox Christianity, such as St George Cathedral & Museum. Commissioned by Emperor Menelik II to commemorate the nation's 1896 victory over the Italians it features artworks by local artist Afewerk Tekle.
Medhane Alem Cathedral in Bole is the second largest in Africa while Holy Trinity Cathedral's impressive granite tombs mark the final resting places of Emperor Haile Selassie and his wife, Empress Menen Asfaw. Opposite you can find the tomb of British suffragette Sylvia Pankhurst who moved to Addis in the 1950s.
Other prominent religious sites in Addis include the Anwar Grand Mosque while in front of the cute old colonial station, La Gare, you can tick off the Lion of Judah Monument — symbol of the former monarchy — which sits marooned on a grassy traffic island.
Must go loco for Entoto
Many organised or taxi tours take in Mt. Entoto on the city's outskirts. This elevated area overlooking Addis is a favourite with training athletes, including those getting in shape for November's Great Ethiopian Run.
Most, however, come for the octangular church-cum-museum of Entoto Maryam. Plus, the grounds of the nineteenth-century Kiddus Raguel church, an easy walk through the local Eucalyptus trees from Entoto Maryam, house the remains of one of Ethiopia's famous rock-hewn churches. For another rock-hewn church head to Washa Mikael, in Yeka district.
Don't forget to collect some souvenirs.
Churchill Avenue and its adjoining Nigeria Street are excellent destinations for souvenir hunters. You can find Ethiopian silver crosses, woven baskets, football shirts, embroidered local dresses, and more. For a thoughtful gift, consider grabbing bags of local coffee, which are readily available at places like To.mo.ca.
For a more immersive local shopping experience, explore the Merkato in the Ketema district, reputedly Africa's largest open-air market. Although it can be bustling and vast, it's advisable to go with a guide to make the most of the experience.
Indulge in a rejuvenating treatment.
After a day of sightseeing and to help ease any lingering jetlag, consider pampering yourself with a massage or treatment at one of the city's budget-friendly spas. Bole district, just a short taxi ride from the airport, is home to many excellent options, with Boston Day Spa being a reliable choice.
Get into the groove and enjoy some drinks.
As night falls, it's time to explore Addis Ababa's bars and clubs. Road Runner bar in the nearby Haya Hulet neighborhood is a fantastic place to unwind with a few drinks by the cozy fire. You can also enjoy the extensive collection of African music curated by the welcoming owner, Tony Hickey, before venturing to one of the city's music venues.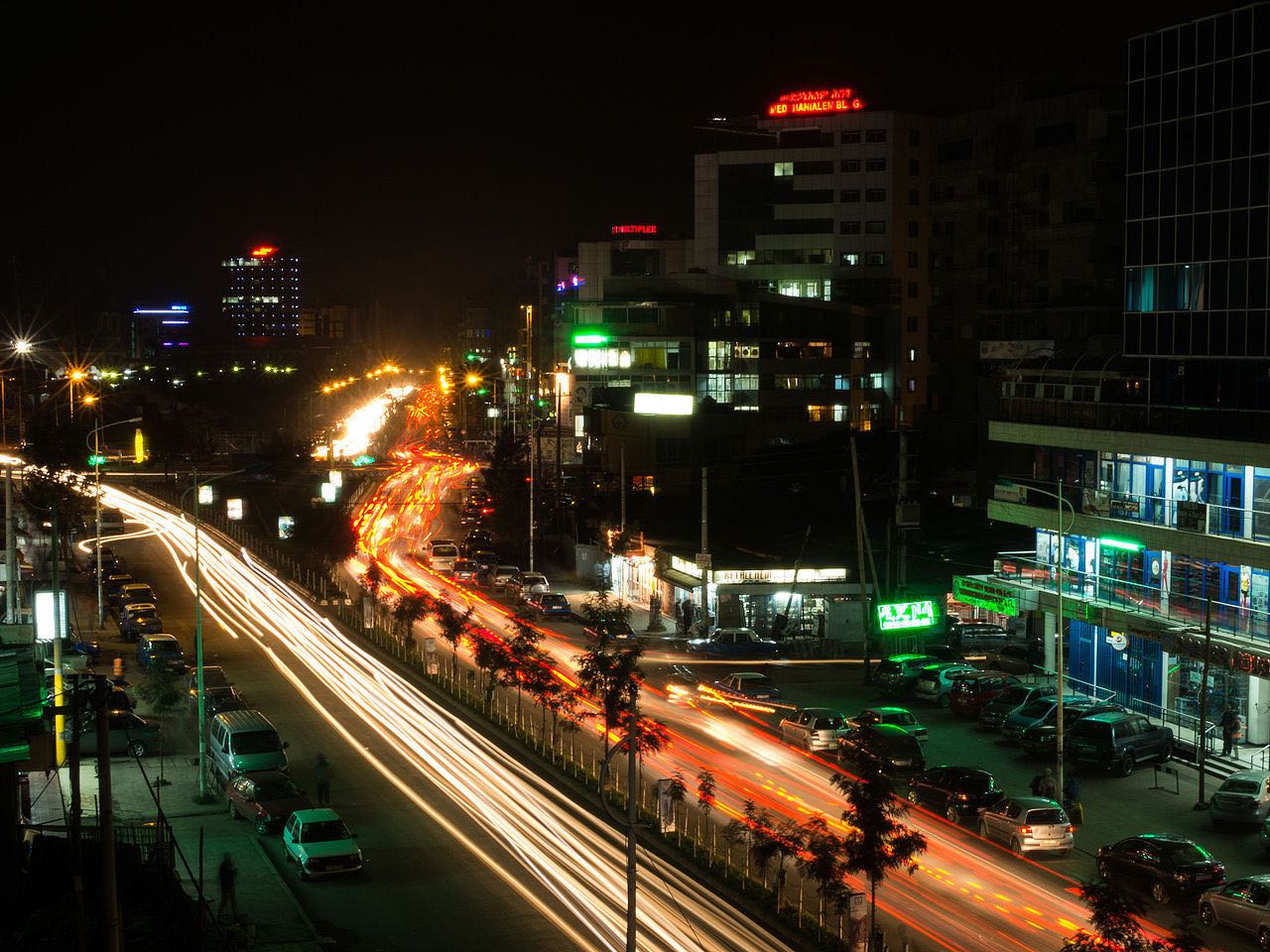 Personal favourites include Fendika Azmari Bet on Zewditu St, in Kazanchis district. I've spent a few great evenings here catching the ever-revolving roster of excellent local and regional musicians, playing to an always packed house.
Venues such as Yod Abysinnia and Checheho Cultural Restaurant attract a busy mix of locals and tourists with their mix of regional music and dance performances backed by local eats and drinks.
Another Addis highlight is catching some 'Ethio' Jazz. The sound was pioneered back in the '60s by artists such as Mulatu Atsatke whose African Jazz Village venue can be found at the Ghion Hotel. Another good bet is the Jupiter Hotel where popular nights include Thursdays.
If you're staying in Bole local nightlife options range from the Beer Garden Inn, with its onsite German-style brewery, to the livelier Flirt Lounge, Black Rose and Mojito Bar.
Must Stay
The luxurious Golden Tulip, boasting 90 opulent rooms, offers Deluxe rooms starting at Euros 145 per night for double occupancy. Noteworthy features encompass the exceptional service, inviting contemporary accommodations, and a diverse culinary selection ranging from local to international cuisine. Its prime location is a further advantage, with Bole's vibrant bars, restaurants, and shopping options at your fingertips. Addis Ababa airport is within a convenient two-mile radius, and the city center is just a short taxi ride away.